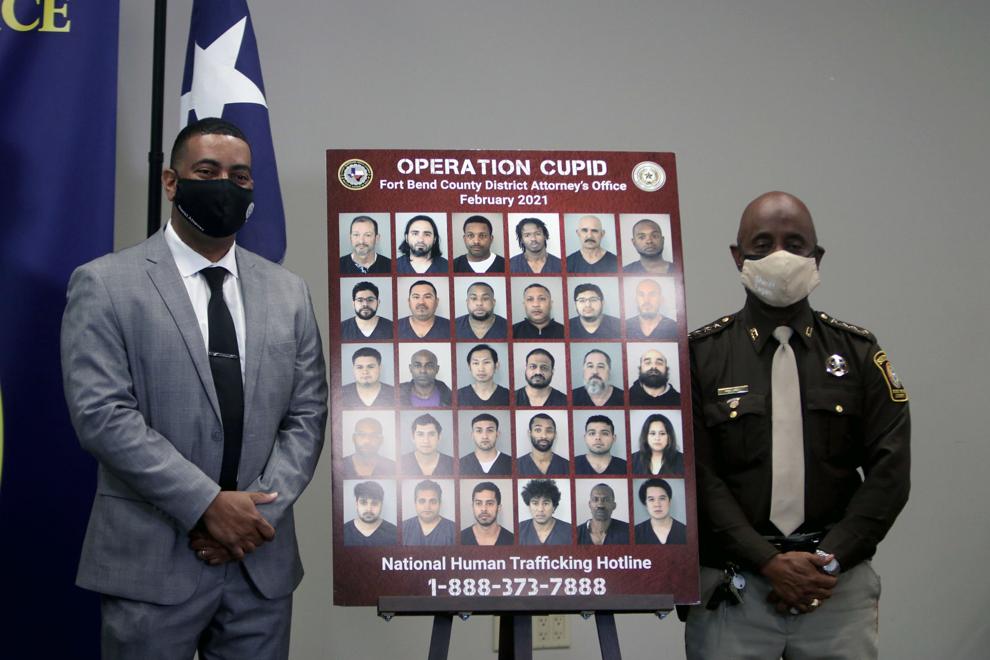 A teenager was rescued from a human trafficking operation last month and 30 people who wanted to purchase sex were arrested, authorities reported Wednesday.
The Fort Bend County District Attorney's Office collaborated with the Human Trafficking Rescue Alliance and partnering agencies to conduct the multi-day proactive operation in February.
"Over three days, Operation Cupid aimed to combat human trafficking in Fort Bend County by identifying and arresting those intending to buy sex," Assistant District Attorney Craig Priesmeyer told members of the media during a press conference at the Fort Bend County Justice Center.
"Commonly known as 'johns,' they create the demand for human trafficking and contribute to the pervasive problem the community faces from these crimes. We are focused on saving victims by following basic economics; removing the demand will reduce the supply."
Fort Bend County District Attorney Brian Middleton congratulated the team on the results and further stressed the importance of being proactive.
"In three days, while continuing to face the challenges brought on by COVID-19, our law enforcement officers and partnering agencies taking part in Operation Cupid made a significant impact in the sex-trafficking trade right here in Fort Bend County," he said.
"Thirty arrests are remarkable enough, but to rescue even just one person highlights the significance of this work. The success of this operation shows that we have much more work to do if we are to eradicate trafficking from Fort Bend County."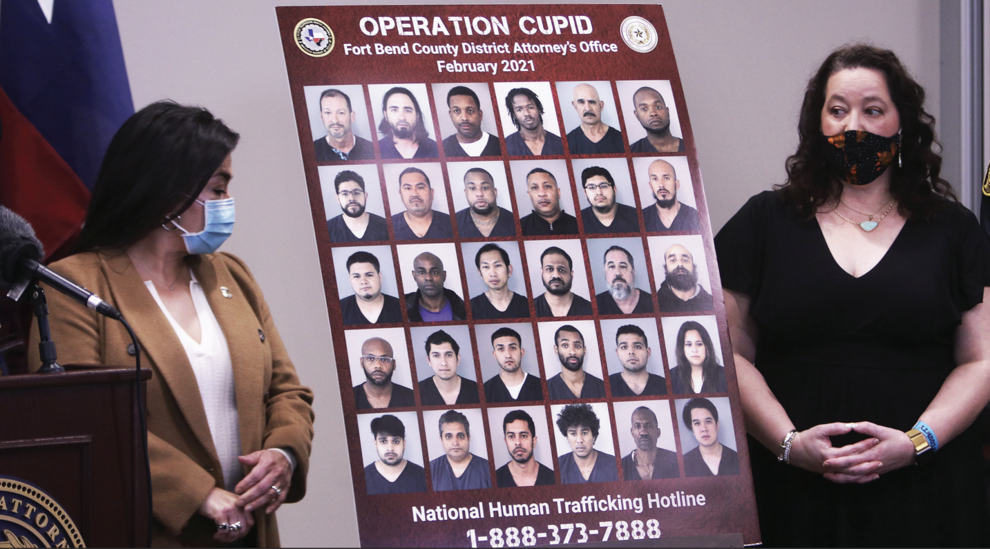 Middleton said his office would continue to pursue anyone involved in human trafficking.
"As I have said before, we will be relentless in our pursuit of those responsible for human trafficking, including those who create the demand for trafficking victims in this county," he said.
District Attorney Middleton also extended his thanks to the agencies that collaborated with the Fort Bend County District Attorney's Office, noting that they were essential to the success of the operation. The partner agencies included the Sugar Land Police Department, Houston Police Department, Fort Bend County Sheriff's Office, Missouri City Police Department, Department of Public Safety, Montgomery County Sheriff's Office, and the Department of Homeland Security.
Fulshear resident Rhonda Kuykendall, who chair's the district attorney's Human Trafficking Team, said the arrests show Middleton's commitment to ridding the county of those who traffick in human beings.
"If communities are not actively looking for sex trafficking, they won't see it," Kuykendall said.
"Through education and awareness, our motto is 'See Something Say Something.' This DA has proven through past sting operations and now Operation Cupid sex trafficking will not be tolerated in our cities.
"Victims and advocates are thankful for the work being done by our district attorney, law enforcement and partners."
Kuykendall said the Human Trafficking Team is working on statewide legislation, ordinances in our cities and education and awareness symposiums locally to help caregivers and kids protect themselves.
"Join us in fighting sex trafficking in Fort Bend County by joining Defend Your City FBC," a group Facebook page dedicated to battling human trafficking, she said,
Together we will make a difference."