FBC ESD #6 meeting will be on July 24, 2019 at 7:00 pm in Pleak City Hall. Pleak City Hall is located at 6621 FM 2218 and FM 2218 near the intersection of FM 2218 and Highway 36 South. Meetings are always open to the public.
The Shell station at Briarwood Crossing and Hwy 36 is finally open. Go check it out. Pleak Fire Department did a walk through of the new Culver Elementary School in the Briarwood Crossing subdivision. I must say, I am super jealous of the kids these days. The school is incredible.
Happy belated birthdays to some of my favorite neighbors Paula Warnasch and Melvin Meyer.
Congratulations to Al and Paula Warnasch on the arrival of their 11th grandchild. Lux Alba Warchasch.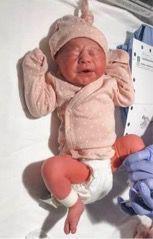 She was born 7/21/2019 at 6:36 pm. She's a little tot, weighing and even 5 pounds.
Needville Fire Dept. Annual BBQ . Raffle and Auction Fundraiser, August 18, 2019 11am-6pm.
Live Auction, Raffle, and BBQ Meal and all the Trimmings. Stay tuned for more information.
I look forward to hearing from you and sharing stories of your plans for the summer, your children's school accomplishments OR good news from your neighborhood or your church.
You can call me at 281-703-9939, or send me an email to mlgoates@gmail.com with any news that you would like to share.
To find out what is happening in the Village of Pleak you may visit their website of www.villageofpleak.com for scheduled meetings, to read minutes from previous council meetings.
For more information, you may also call the Pleak Village Hall office directly at 281-239-8504.