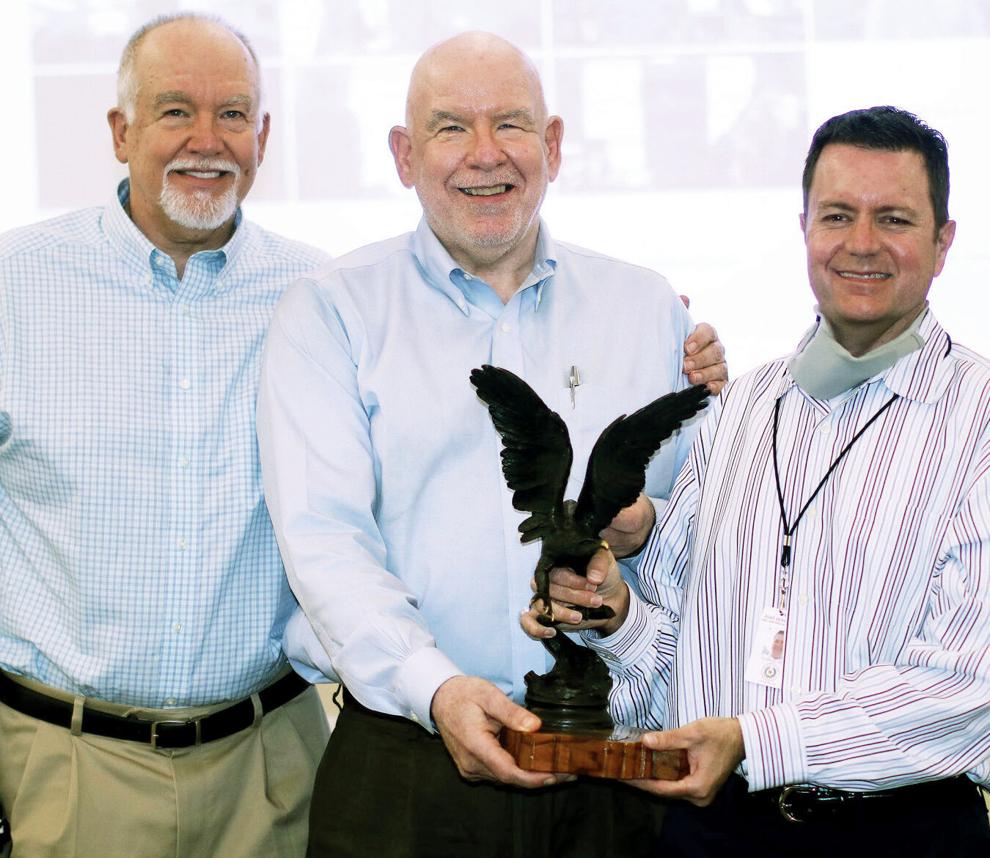 Tuesday's audience numbered far fewer than usual and there were no hors d'oeuvres available. But the striking bronze eagle was again perched on the wooden likeness of Fort Bend County and the plaque affirmed that Chuck Kelly was the 2021 recipient of the Bert E. Bleil Heritage Award.
The COVID pandemic reduced the 13th annual Bleil ceremony from a stand-alone evening reception to a relatively short event leading off the quarterly meeting of the Fort Bend County Historical Commission. Still, Kelly has permanent possession of the hefty trophy as the chief memento from what he termed "the big do."
Kelly was honored for his commitment to preserving and promoting local history in Fort Bend.
He has served on the commission since 2011, succeeding Bert Bleil as its chairman in 2014 after the latter's sudden death. On Tuesday, Kelly told those present in the Gus George Law Enforcement Academy's main hall plus a Zoom audience how instrumental his late predecessor was in developing the historical commission.
"Bert Bleil was the key to organizing the commission into an effective volunteer organization " Kelly affirmed in a prepared statement. Bleil "built in grand style" upon the improvements made by earlier chairmen W.M. Von-Maszewski and Michael R. Moore. "He led the creation of new committees to address the various aspects of the commission's mission, as defined by the Texas Historical Commission.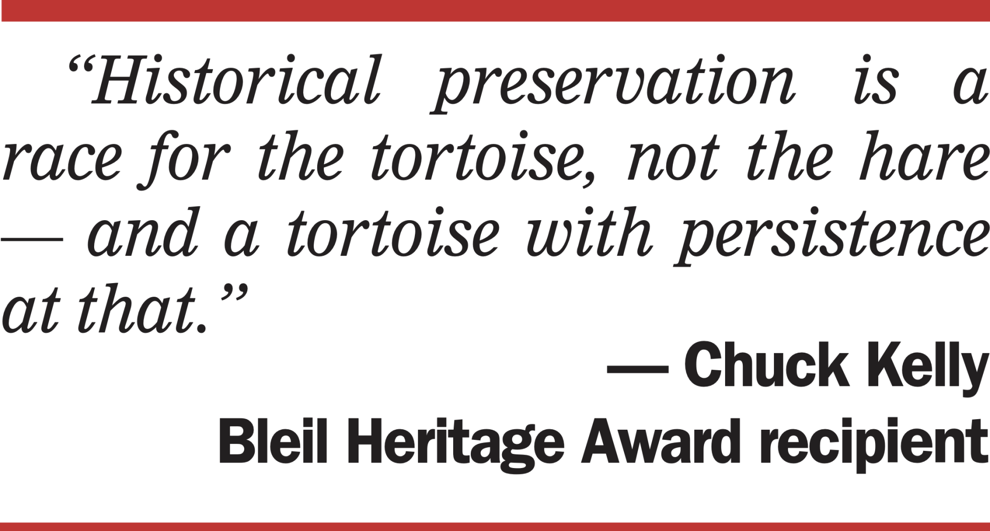 He organized the Friends of the Fort Bend County Historical Commission to provide support for the county historical commission. He established the heritage award now bearing his name.
"He did numerous administrative things to give the county commission forward momentum. I wanted to keep that momentum going after Bert's death. That was my overriding goal as incoming chairman."
As good as his word, Kelly actively participated in most of the commission's numerous committees. He also served as its liaison with the Fort Bend County IT department, a critical link for the county-appointed commission.
"In addition to maintaining momentum, I wanted to raise the commission's profile as much as possible inside and outside the county. The commission has done its best to promote collaboration among local organizations and institutions. We have also reached out to neighboring county commission. This effort included participation in symposiums, presentations, and practical support regarding cemeteries."
Kelly noted that the commission "received Distinguished Service Awards from the Texas Historical Commission from 2016 to 2019. I think that suggests we achieved some success."
Aside from the county historical commission, Kelly has volunteered at the Sugar Land Heritage Foundation for more than a decade. He has worked as an archivist, helping to access and categorize items that make up the foundation's collection. He also helped with exhibits, presentations, events, and publicity. For several years he ran a local history blog known as the Old Sugar Land Club House, which was popular with old timers and anyone with an interest in the town's history.
Other duties have derailed the blog for the present, "but maybe I can get back to it soon, " Kelly said.
Kelly said historical preservation doesn't see results overnight.
"Historical preservation is a race for the tortoise, not the hare — and a tortoise with persistence at that," he told those in attendance. "I thank you. I'm really honored."
Surprising to many, lifelong Sugar Land resident Kelly recently retired to Clifton in Central Texas where his maternal grandfather grew up.
He noted that while he is enjoying life in a small town and plans to get involved in local history there, he also intends to continue online volunteering for the Fort Bend County Historical Commission and the Sugar Land Heritage Foundation.
"I may live in Bosque County, but my heart's still in Fort Bend, " Kelly said.
Past recipients include Crosser, Virginia Scarborough and Willie Ann McColloch, Billie & Jack Wendt, Bettye J. Anhaiser, Vickie Lynn Tonn and René Lamb, Bob and Marcia Vogelsang, Wolfram M. Von-Maszewski, John Walker, Franklin R. Schodek, Renee Butler and Bruce Gethen.
---
---
[Tim Cumings is a former managing editor for the Fort Bend Herald and after retiring served as its news editor until 2020. He is a member of t…