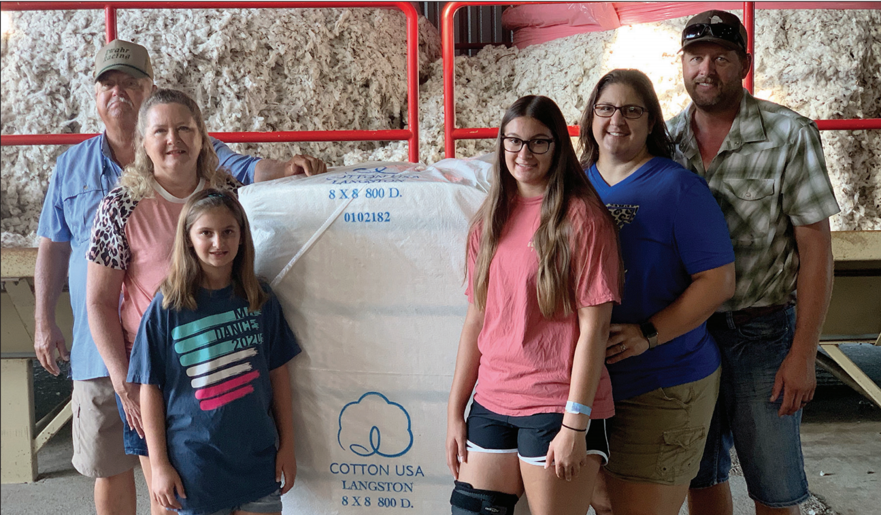 Due to the coronavirus, the first eight months of 2020 has been tough on many industries. Farming included. Fortunately, the yields are bountiful, thanks to rain showers that came between planting and harvesting. The cotton crop looks especially good this year. Area cotton gins began in the middle of August to start turning out bales, and they expect to gin for months to come because of the high yields.
"Cotton looks really good this year," said Randy Zdunkewicz. "If the weather can hold out for three weeks, we'll be in good shape."
Zdunkewicz farms had the first bale of cotton produced at the Needville Gin in the second week of August. The weather worked in favor of the farmers this season.
"We had very favorable weather this year," Zdunkewicz said. "We had timely rain, not flooding rain. We didn't have a drought. We got what we needed."
Hurricane Harvey hit the Texas coast in 2017 and destroyed much of the cotton harvest. Heavy rains flooded fields in 2018 and 2019, damaging crops. But this year, the rain came at the right time — when it would do the cotton the most good. The story was the same over at the Fairchild Farmers Gin Co-Op in Fairchilds where the Zwahr family had the first bale.
"The yield has been really good," Jason Zwahr said. "Harvest has been good." The Zwahr's are harvesting 1,100 acres of cotton. The family started harvesting earlier than many other cotton farmers, and they're hoping for two more weeks of dry weather to get the job done. "There was a lot of concern that the weather was going to hurt us," Zdunkewicz said. "We got a week of weather when cotton was open but it dried up. It didn't hurt us as much as people were talking about."
Now the only thing affecting the farmers is the commodities prices.
"So far, in the beginning, it's about the same," Zdunkewicz said. "The yield is about the same. The prices are kind of trash right now. We'll have to work around that. "Cotton is 10 or 15 cents below where it has been. Corn is probably $2 cheaper than where it has been."
The coronavirus didn't affect the farmers' ability to work in the field but it did affect the supply chain.
"We can hardly get trucks. The port shuts down," Zwahr said. Phillip Thielemann, an extension agent with the Texas Agrilife Extension Service, said the cotton crop countywide is looking good this year. "Everyone I've talked to sounds pretty pleased with the crop this year," he said.