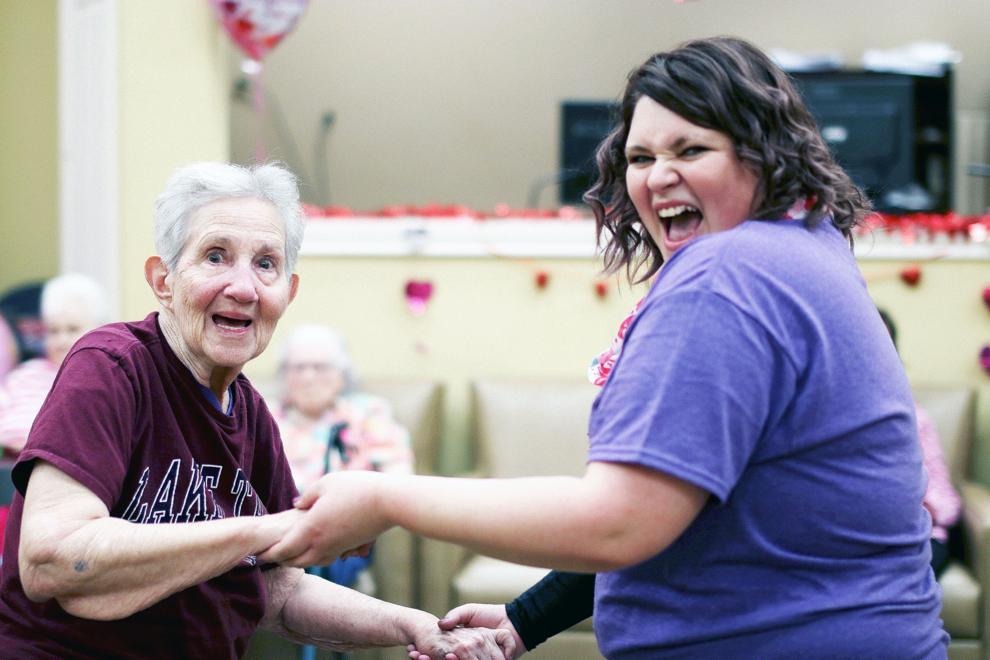 Former Herald-Coaster lifestyle editor Betty Dawes Humphrey, who regaled readers for more than five decades with her weekly column "Bits from Betty," passed away Friday.
Betty started at the Herald-Coaster on Oct. 1, 1952 and retired March 31, 2007.
Herald-Coaster readers flocked to her retirement party.
Betty's job title was family editor and her section of the paper was always full of local names and events such as weddings, anniversary celebrations and the like. Her annual cookbooks were legendary.
"But she was dedicated to the greater community content of each issue," said former Herald-Coaster Managing Editor Tim Cumings, who worked with Betty.
"The perfect example was her county fair coverage, which she did thoroughly and tirelessly. If there was a single name left out of any judging results, it was someone else's oversight.
"She loved this community and its people, and the people loved her," Cumings said.
Her Rolodex — and note pads with names, addresses, telephone numbers family names, children's birthdates and which students raised what for the county fair, and other assorted jottings — was the envy of area writers.
Herald-Coaster Publisher Clyde King said Betty always had her ear to the ground.
"Betty was a perfect reporter, in that she was nosy — and I mean that in the most positive way. She knew everybody in town and knew where every body was buried, and she would gladly share that information with our readers."
He said she truly cared about the people she worked with, and the people she wrote about.
"She tried to be my mother.," he recalled. "She tried to be everybody's mother. The great thing about Betty was she really cared about everyone."
Betty wrote about anybody and everybody.
Forty-six years ago, as the County Fair came to an end, the Coaster-Herald published the fol…
Thousands of residents read their names in the Herald-Coaster every year, thanks to Betty's column and a lifestyles section that included weddings, engagements, anniversaries, births, civic club news, cooking recipes, college and university announcements and more.
She would spare no detail in wedding announcements, even going as far as describing in intricate detail wedding dresses, floral arrangements and ice sculptures.
But it was her weekly "Bits from Betty" that often drew guffaws from readers.
Betty wasn't shy writing about herself and her own family if she thought it would bring a smile to readers' faces.
Many readers of The Fort Bend Herald grew to know her family well — husband, Guy Humphrey Sr., sons Guy Jr., Bill and Kevin, and daughters Lisa and Lynn. She dubbed husband Guy Sr. as "The Critic," and his antics often amused Herald readers.
In once instance, Betty recounted how "The Critic" attempted to prepare their son's chickens for supper. Their son had raised the six birds for the county fair, but they had been rejected. Her husband took it upon himself to prepare the chickens for dinner, even though he lacked the necessary skills. The resulting chaos left the family without an appetite and Herald readers glued to Betty's column week after week.
Herald-Coaster readers often asked the newspaper to repeat the column for their reading entertainment. 
Her column often featured other humorous accounts of Guy and Betty's family life in the Timberlane neighborhood of Rosenberg.
Herald-Coaster editor Bob Haenel worked with Betty for decades.
She'll take the stage one last time Friday.
"When I arrived at the Herald-Coaster Betty immediately adopted me," Haenel, now retired, recalled. "She was like a second mother and was always 'guiding' me and others at the Herald-Coaster. She made our community and our lives richer."
Betty was more than willing to take young journalists under her wings, former Herald-Coaster reporter Denise Adams said.
Cindy Dean, who wrote the popular Pleak Speaks for decades, said Betty gladly taught her the ropes.
"Betty was so very kind and helpful to me when I first began writing Pleak Speaks," said Dean, who retired from column writing in 2017. "Her guidance and friendship was truly appreciated."
For years, Betty served as a judge for the annual Fort Bend County Fair parade, an appointment she looked forward to.
Even after her retirement, Betty continued to serve the community as a volunteer at OakBend Medical Center, where she worked at the front desk greeting visitors and answering phones, worked in the gift shop and dealt with couriers — essentially doing anything she could to reduce the burden on staff and patients.
After a short while, she became known as "The Popcorn Queen" for her penchant for preparing the buttery treat for visitors, patients and staff alike.
Betty stopped by the newspaper often during her retirement to share her long-established newspapering policies with new editors.
"Not everyone cares about hard news. Not everyone wants to read about crime," she told a new editor in 2015. "Many people want to see their names and their family's names and the names of their neighbors in the paper — you know, the light news."
Publisher King said Betty left an indelible legacy behind when she retired and her presence and commitment to her craft are sorely missed.
"Her newspaper family was a second family to her," King recalled. "She loved being in the newspaper business and being at the heart of community happenings."
The Herald-Coaster became the Fort Bend Herald in August 2005, prior to Betty's retirement in March 2007.
Bill Hartman, whose family purchased the Herald-Coaster in the early 1970s, arrived to find Betty firmly entrenched in the goings-on of the community.
"Betty was the Herald-Coaster," Hartman said. "She was our finest ambassador, both for the paper and the county. Today, Betty and Guy are reunited and making new friends wherever they go."
Funeral arrangements have yet to be shared with The Herald.