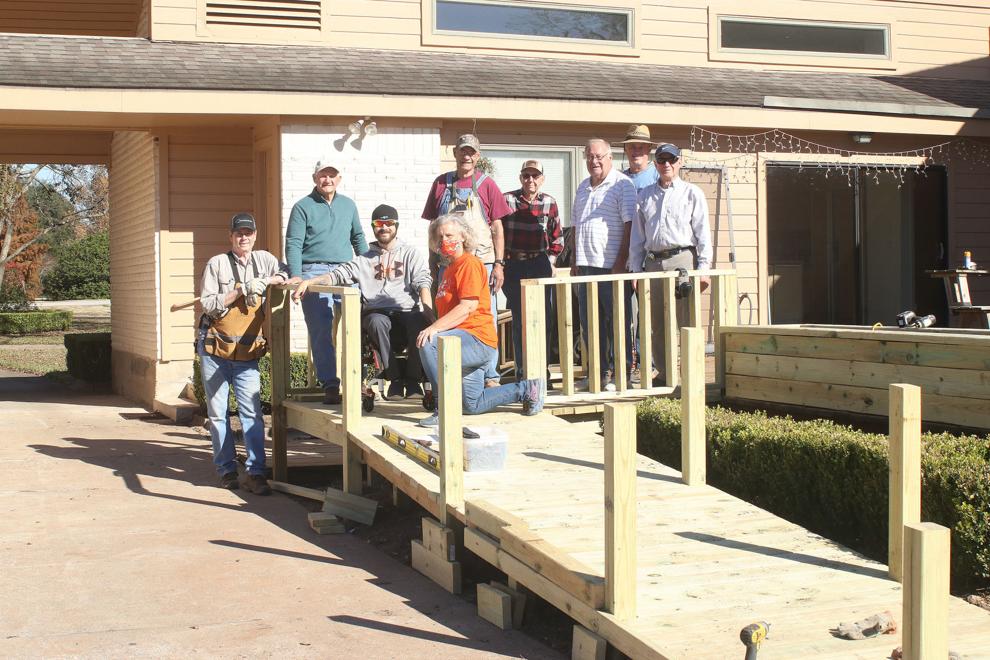 There was a time when Dillon Cannon would gladly join others in the community who helped veterans with projects around their homes.
But those days ended when a sniper shot Dillon in the throat while he was serving in the Army in Iraq.
Now some members of the community are repaying Dillon for his service to the nation by helping him get in and out of his Richmond home.
They're building a sturdy ramp to his home, and are planning to install an automatic door to help Dillon, who lost all use of his legs and limited use of his arms on Dec. 29, 2006.
"I'm at a loss for words," Dillon, 34, said as he watched the carpenters cutting and nailing planks to the ramp outside his home in the Bella Vista Subdivision off FM 359.
"I'm very thankful we have such people who take care of veterans like me. I used to help veterans myself at one time. I would still do it today if I could."
Dillon, who grew up in Pecan Grove, joined the Army in April 2005.
"I was in high school when I saw the Twin Towers fall, and I made a promise to myself right then and there that I would enlist and defend my country against terrorists," he said, referring to the terrorist attacks of Sept. 11, 2001.
He was serving with the military police in December 2006 when he was shot.
"I was helping to guard a roadside bomb — waiting for the bomb disposal crew to arrive — and I was sitting in an armored truck with just my head outside the turret. Then I stood up and a sniper shot me right in the neck."
Long afterward, Dillon and his fellow soldiers reconstructed the attack and realized that standing up may well have saved his life.
"Had I remained sitting, the sniper would have shot me right between the eyes," Dillon surmises. "He was aiming at my head, and had fired the shot, the second I stood up."
The bullet fractured his vertebrate, and sent bone shards into his spine, crippling him.
Declared a paraplegic, Dillon's hopes of serving his country in uniform were ended.
He misses the Army, the camaraderie of his fellow soldiers and serving and protecting his country.
"I really miss the brotherhood — and it was truly a brotherhood. We were like brothers," he said. "I'd still be there with them if I could."
A storm knocked down a giant oak tree behind his home in July. It fell on his wheelchair ramp and destroyed it.
His mom knew a friend with carpenter skills.
Bernie Brezina had no problem convincing other members of the Knights of Columbus Hall 2801 to donate some time and energy on the project.
Home Depot donated all the supplies — wood and nails, etc.
Bunky Ward of Richmond, a woodworker well known to the KCs, agreed to turn the remaining tree stump into a table.
The group would like to install an automated door to help Dillon enter his home.
"He doesn't have full use of his hands or arms so he has problem going in and out," Bernie said.
The door would cost about $5,000.
Anyone who would like to contribute funds to the worthwhile project is encouraged to contact Bernie by phone at 713-826-2528 or via email at BernieB@brezinaclaims.com.
"I appreciate what all these people are doing for me. They didn't even know me. They only knew I was a veteran in need and they could help me."