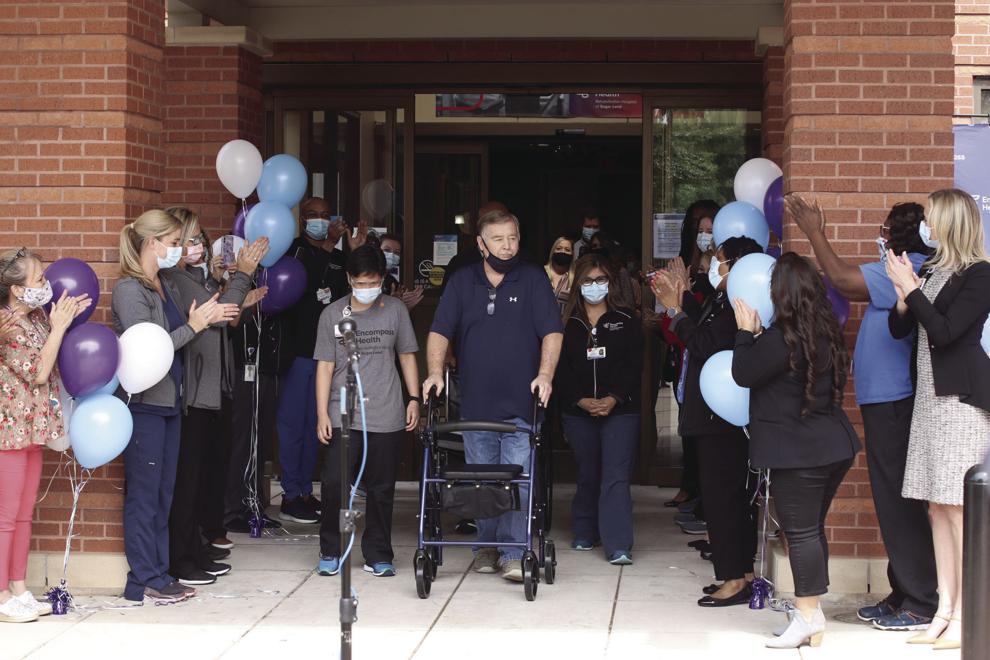 Fort Bend County sheriff's deputy Kevin White walked out of a Sugar Land rehabilitation center on his own two feet Thursday — shaky as they were after a life and death battle with COVID-19.
Staff at Encompass Health Rehabilitation Hospital, the doctors and nurses from St. Luke's who helped him survive his bout with the novel coronavirus, family and coworkers applauded White as he pushed his wheeled walker up to a microphone.
His strength zapped, White sat down before thanking everyone for their support and well wishes.
Despite the limited visitations allowed because of COVID restrictions, White said he was aware of all the support he was receiving.
And if he hasn't gotten around to thanking everyone, it's because, well, he was in a fight for his life.
"I know the support was there and that everybody was wishing me well," he told those gathered at the front entrance of Encompass Health.
"And, quite frankly, the first week I came out of the coma I was pretty much delusional."
White spent about 20 minutes thanking the doctors and nurses who saved his life, the staff at the rehab center for getting him back on his feet, and family and coworkers for their emotional support.
"I particularly want to thank the doctors and the nurses on the critical ICU unit (at St. Luke's): They saved my life," he said.
"They made some hard decisions. They had to interact with my wife, obviously, and some very hard decisions had to be made."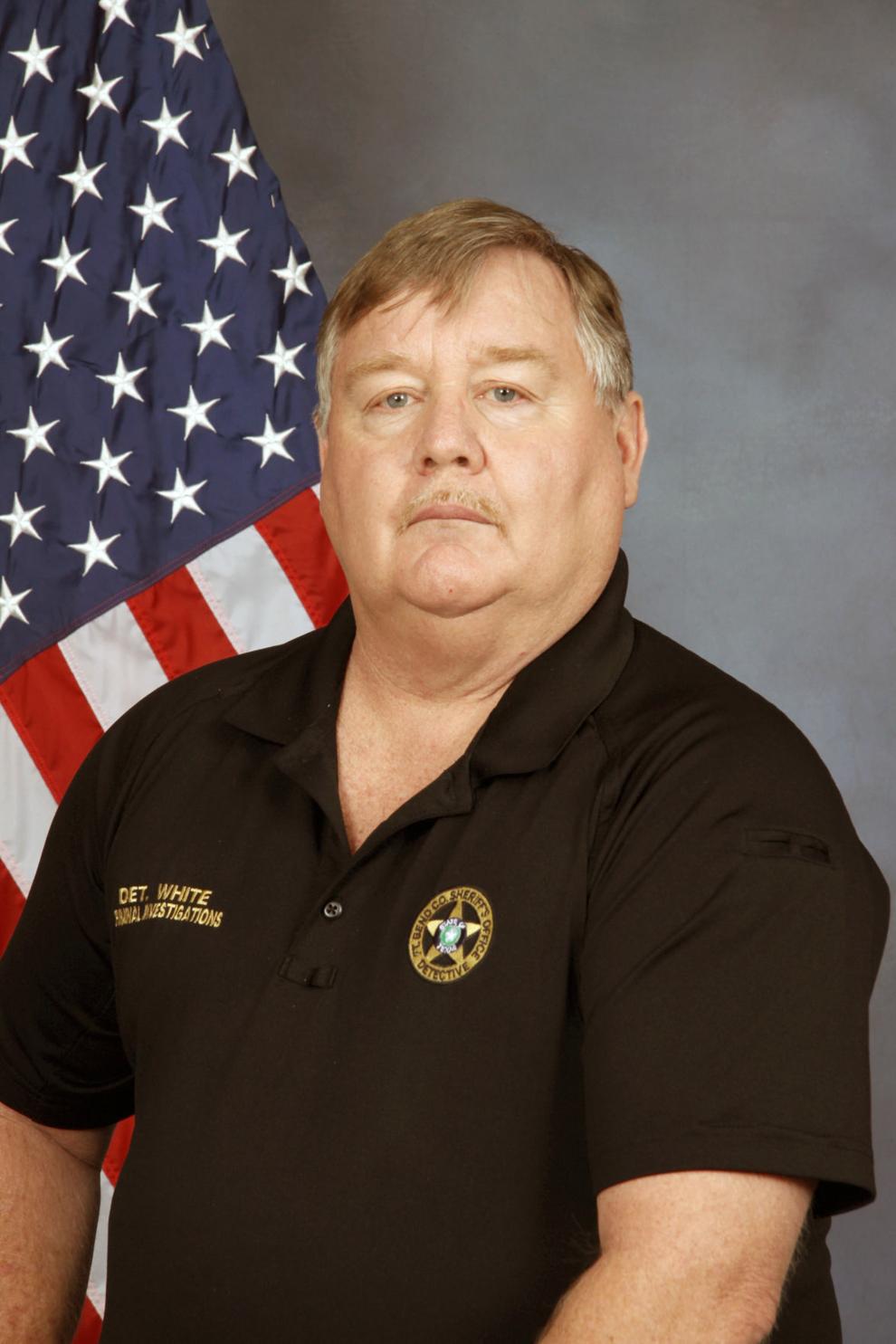 Testing positive
White tested positive for COVID in late February.
He originally believed he had a simple cold, he recalled. He had worked all through the ice storm in February and figured the icky feeling would go away with a little bed rest and over-the counter medicine.
It didn't. It only got worse.
Finally, he decided to go get tested for COVID.
After testing positive for the virus, he figured all he needed was a little more bed rest and maybe a little more over-the-counter medicine.
But his condition worsened until his wife, Mary, called his coworkers and asked for their help.
They convinced him to head to the hospital.
"You have to understand, Kevin is a man's man, and he kept telling us it's no big deal," said fellow detective Sarah Mayle.
"When he didn't get better, Mary called us and told us she was worried so I called Kevin and I laid a guilt trip on him. I told him we were all worried about him and that if he didn't go to the hospital I was going to drive over there and take him to the hospital myself. So he drove himself."
Hard decisions to make
White said he doesn't remember going to the clinic to get tested.
He remembers parking the car at the hospital and walking inside but he can't remember much of that three-day period between the day he was tested and the day he came out of a medically-induced coma in the hospital at St. Lukes.
White said St. Luke's staff didn't waste time.
"When I hit that hospital, they got me right up to ICU," he said. "I was given, like, 30% chance to survive. And I kept crashing for the first two days while I was in a coma, and then one day they called (my wife) up and said 'he's improving.'"
"They were painting a very dire picture," he recalled. "(My wife) went through a hell of a lot. They all did. They were living 100 miles away (in Groves, Texas) and weren't allowed in (to visit). She had to make some hard choices but she made the right call."
Mary said the hospital staff did everything medically possible to save her husband's life, even offering at one point to use drugs still in the experimental stage.
Fortunately, they didn't have to, she recalled.
One of the most difficult decisions she had to make was when Kevin's doctor called her and told her they needed authorization to intubate him — stick a tube down his throat to remove phlegm — and put him on a ventilator.
Only afterward did she find out there was a 70% chance he would never recover, she said.
"It was an emotional roller-coaster," she recalled. "It was definitely a matter of life and death. We are very grateful to everyone who helped Kevin come back to us. We really didn't think it was going to (turn out successful.) I really didn't think he was ever going to come out of the hospital alive, but Mayle was so positive all the time, telling me, 'he's a fighter.' She was a source of strength."
Kevin said the hospital staff told him they had help in his life and death battle.
"When they talked to me, they described it as a miracle," he said. "Peoples' prayers, it all worked. I keep saying God's got some other purpose for me."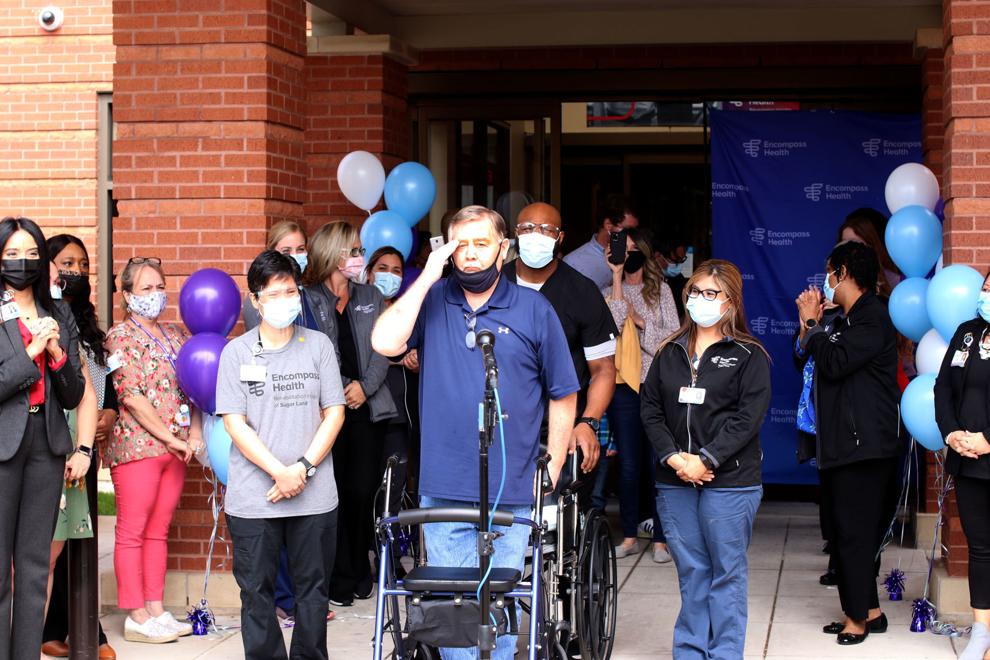 After effects of COVID-19
White said he doesn't remember much about the first days he came out of the coma.
But he knew he was in serious condition.
When they moved him to a rehab facility, he said he could barely lift a finger.
"That COVID is a monster," he said.
White thanked his physical therapists for their dedication to getting him back on his feet and back home.
"These people here, what they've done for me, I never thought I'd walk out of this place under my own power," he said, acknowledging the staff at Encompass Health. "They're miracle workers. There's no doubt about it."
He admits there were times when he couldn't finish the workouts his therapists had planned for him.
He reached down deep, remembered his military training and completed the mission
"But I just kept digging deeper and deeper," he said. "I never quit. There were days I couldn't perform all (the tasks scheduled), but I at least tried.
Even though he left the rehab on his own two feet Thursday, White knows he is not out of the woods yet.
He says he's developed "COVID toe" — a swelling and discoloration of the fingers, feet and especially the toes.
He said he is also experiencing the effects of COVID in other parts of his body.
"I'm already suffering COVID fatigue," he said. "It's going to linger for months."
Mary said she knew COVID affected the lungs, "But no one told me you wouldn't be able to move your limbs, or stuff like that. I didn't know about COVID toe. I didn't know about all the other affects. I knew about exhaustion and fatigue and loss of taste and smell, but it has a lot more extreme impact than people know about.
White said he will return to the rehab when he's well enough to help motivate others.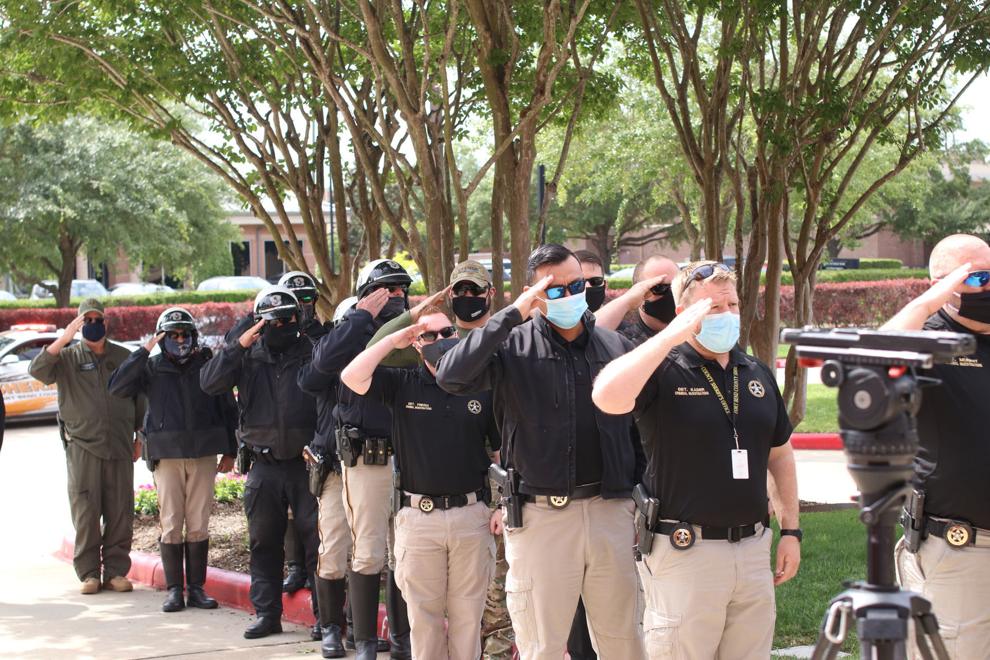 A message to nonbelievers
Although he's been declared COVID free, and he has the antibodies, White said he plans to still go and get the vaccine three months from now.
"I'm not going to take any chances," he said.
His message to the non-believers and skeptics who continue to believe the virus is a hoax and that masks and social distancing don't work: "You've got to listen to the experts. I mean, we take vaccines for everything else. It's better than being where I am."
Ironically, Mary said, she and Kevin often discussed the chance of one or both of them catching COVID, but didn't put much stock in it.
"There were times when we would sit there and say to each other, 'We're not going to get this. If we haven't gotten it by now we're not going to get it.' Well, let me tell you, you can get it and it can be deadly."
Ready to get back to work
White said he's anxious to return to work.
His coworkers said they're anxious to have him back.
Fort Bend County Sheriff Eric Fagan arranged to have an honor guard at the rehab center when White was released Thursday, and the sheriff wished him a speedy return to duty.
White used his rolling walker to meet and thank everyone who showed up to wish him well.
"I'm determined I'll get back to full use of my body," he assured them.
"One of my goals: Next year is our 40th (wedding anniversary) and we're going to dance."