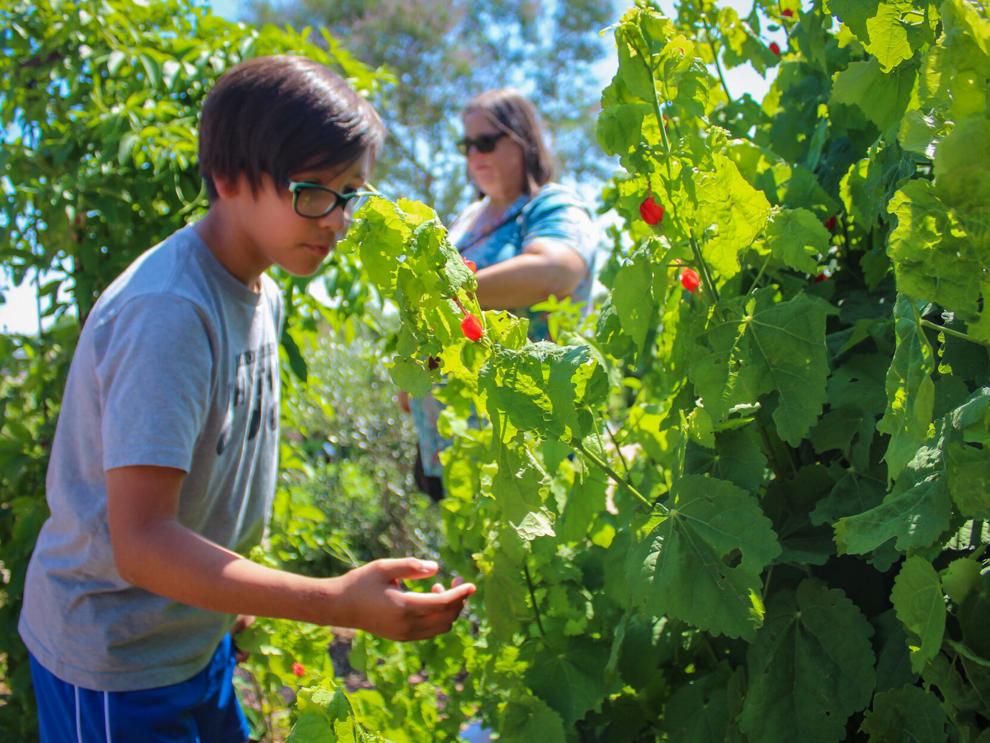 Cutting the ribbon to the Fort Bend County Master Gardeners completed education center are, from left, Fort Bend County Horticulturist Boone H…
Fort Bend Master Gardeners Steve Schmerbeck and Karen Zurawski wait to offer visitors a tour through the education center.
The Fort Bend County Master Gardeners celebrated the long-awaited opening of their new Vegetable Garden Education Center on Band Road.
The opening ceremony on Friday included a ribbon cutting and a tour of the education center.
After the year-and-a-half long project came to a close, their garden boasted 17 cedar planters growing over 30 varieties of vegetables, an herb garden, a native plants garden and a 625-square-foot pavilion complete with a 1,625-gallon rainwater irrigation system.
The garden is expected to yield approximately 1,500 pounds of fresh vegetables, which will be donated to Trini's Kitchen this year, with hopes to increase to over 2,000 pounds in the coming years.
Richard Weir, a FBMG volunteer, described the transformation from their property's treacherous weeds to ripe veggies in his project narrative presentation prior to the garden's official opening.
"With COVID, we were restricted in what we could do to get up there … nature definitely took over," Weir told the crowd gathered for the ribbon cutting. "Even with the tender, loving care of the Master Gardeners — in its present state, before COVID — the beds were in need of some serious attention."
As if pruning the overgrown property wasn't enough effort, the group was hindered by COVID-19's tragedies, shortages and safety restrictions. Even then, the resilient Master Gardeners managed to pursue their new vegetable garden project, Weir noted.
"The subsequent success of this project came about only through a great collaboration between all of our amazing Master Gardeners and interns and our dedicated team," Weir said. "Despite all of these things happening the past two years, we pulled it off."
Now that the veggie garden is complete and open to the public, the Master Gardeners will continue their mission in educating the public. With two of the 17 planting beds reserved for their youth action committee, teaching children valuable gardening skills has become more accessible in Fort Bend County.
"We wanted to be sure that there were two beds for our youth activity committee for them to use and we wanted to make it look [like] something that would be easy for someone in our community to come out, take a look at it and be able to go home and replicate the design," Weir explained. "These kids are our future and if we can get them interested in gardening, growing things, nurturing things, I think the world will be a better place for that for everyone … Education is an essential part of what we're doing here … All of this is a way of educating our community about what they can be doing in their yards."
For more information regarding the Master Gardeners and how to get involved, visit their website at fbmg.org.