It's 6 a.m. on a Saturday morning and Rosenberg businessman Bob Vogelsang is calling the editor of the local newspaper — at home.
"Just making sure you're going to be at the event in downtown Rosenberg this morning," he says. "It's really going to be big! It's really going to be great! See you there!"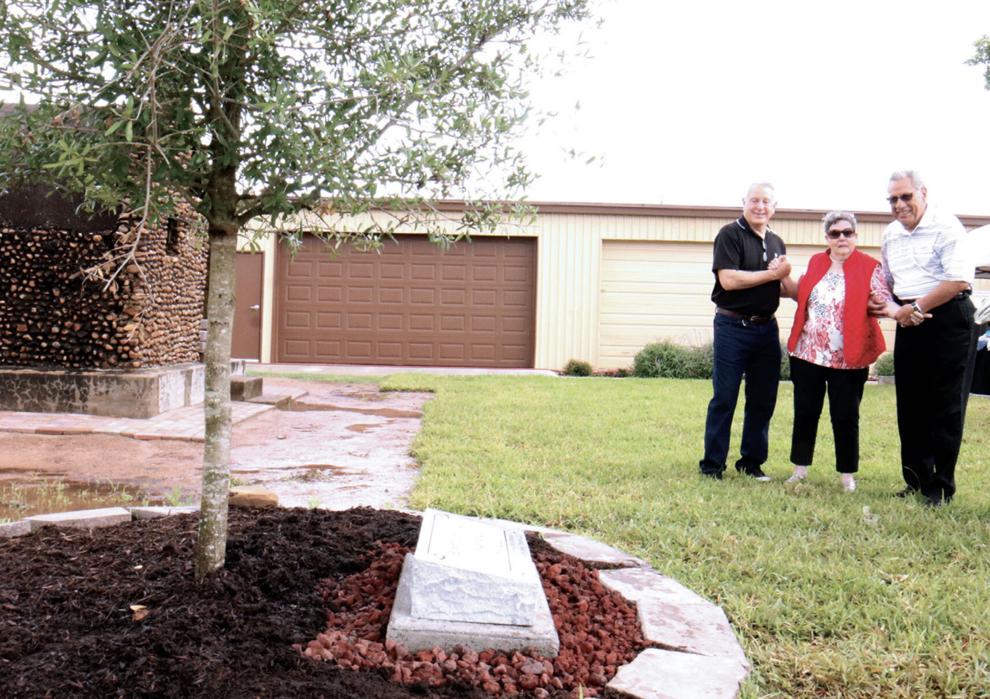 Friends, family, civic and community leaders gathered last weekend to remember the late businessman and his love for his community — especially historic downtown Rosenberg where he owned and operated the Vogelsang Building.
"Bob was always promoting the community," said close friend George Zepeda, who helped organize the tribute to Bob at the Rosenberg Railroad Museum, which Bob helped found and support.
About 50 people showed up to remember Bob, who died Feb. 17, 2021 at the age of 77.
Dignitaries attending the ceremony included Rosenberg Mayor Kevin Raines and five of his predecessors: mayors William Benton, Lupe Uresti, Joe Jurecky and Vincent Morales, now a county commissioner.
A tree was planted at the Railroad Museum in Bob's memory. A granite maker located at the base of the tree says: 
"A man with a vision"
Robert "Bob" Louis Vogelsang
1943-2021
"Iron sharpeneth iron: so a man sharpeneth the countenance of his friend." — Proverbs 27:17
Pastor Jimm Kyles with Anchor Bend Church in Rosenberg led the gathering in prayer to start the ceremony.
A color guard comprising Rosenberg police officers followed the prayer. Chief Jonathan White led the precession of flags. Judy and Steve Tackett of Portilla Home and Garden presented the widow Vogelsang with a flower arrangement. Close friend Quart Graves recounted Bob's long and successful life and read a lengthy list of his friend's accomplishments over the years.
One of those success stories includes a little known fact: Bob helped create the home satellite industry.
According to Graves, in 1981 Bob retired from the export business to start a company that would install satellite dishes on apartment complexes throughout Houston. The company obtained a contract to install antennas on 18,000 apartments in the Houston area. It took two years to install the dishes at a cost of $1.5 million. But Bob wasn't done yet. He had other ideas up his sleeve, Graves said.
In 1984, he sold the company and went on to become the first president of the National Satellite Cable Association, which later changed its name to the National Satellite Programing Co-op. The company was the first to provide satellite programming for apartments, condominiums, mobile home parks, hotels, hospitals, nursing homes, universities, prisons, and other multi-unit residential complexes.
"In 16 years, Bob achieved unprecedented success in the field of satellite cable programming," Graves told the gathering. "He opened doors to expand public involvement in the field of satellite entertainment, knowledge, and news. Thanks to Bob, the world continues to use cable as an informational tool every day."
But Bob was more than a businessman, he was also a dear friend to all he knew, Graves added.
"Bob was clearly a brilliant and successful entrepreneur, but he was so much more than that," Graves said. "I can say categorically that Bob was one of the most hospitable, kind, caring, devoted, mischievous, and fun-loving people I have ever known. He enriched my life deeply and the lives of countless others."
Commissioner Morales agreed.
Rosenberg business entrepreneur and civic leader Robert Louis Vogelsang, whose contributions…
Rosenberg businessman Bob Vogelsang, known throughout the community as a tireless promoter o…
"Bob knew how to bring people together, and here we are," said Morales, who served as mayor of Rosenberg before becoming Precinct 1 county commissioner. "Bob was a dear friend to all of us, and he was indeed a man with a vision."
"Bob was a dear friend to all of us, and he was a man with a vision."
When he was mayor of Rosenberg, Morales recalled sitting down and visiting with Bob many times about their vision for the community and historic downtown Rosenberg.
"I can tell you, that man loved Rosenberg. He loved Fort Bend County. And, Marsha, you two have done so much for this county, and it's so appreciated."
Morales presented the widow Vogelsang with a proclamation in Bob's honor, which recognized Bob for his service to the county and its people.
The proclamation stated, in part, "Robert Louis Vogelsang has impacted the lives of thousands of people in the Rosenberg community through his diligent efforts, involvement, and contributions, forever leaving his imprint on Fort Bend County."
Former Mayor William Benton also offered a proclamation to the widow Vogelsang on behalf a grateful community.
Mayor Raines also applauded Bob's rich legacy to the community. Rainey Webster, executive director of the Railroad Museum, thanked the widow Vogelsang and family for Bob's steadfast support of the museum. Afterward, guests were invited to visit the tree planted in Bob's honor. The oak tree was donated by Green Scape Associates.
Zepeda said every time someone looks at the tree, they will remember Bob.