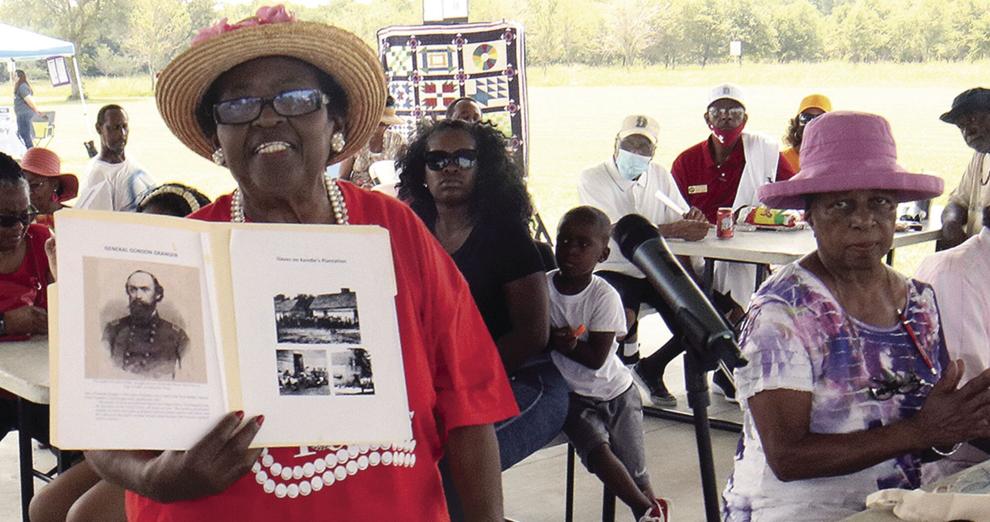 Black folks in Kendleton celebrated Juneteenth on Saturday — the day in 1865 that news of the Emancipation Proclamation reached the shores of Texas — but also remembered all the blood shed by slaves, their descendants, and other Blacks in America since the end of the Civil War.
Dozens of African-Americans — many of them descendants of slaves — gathered at Bates Allen Park in Kendleton, land purchased by freed slaves, to listen to speeches, watch a parade and enjoy a traditional Juneteenth meal of barbecue and red soda — which represents the blood shed by slaves, their descendants and Blacks since the country's founding.
The crowd whooped with joy when Mayor Darryl K. Humphrey Sr., whose great-great-great-great-great grandparents were slaves in Fort Bend County, reminded them that Juneteenth is now a federal holiday.
"Be thankful ... for all the blood and sweat our forefathers shed just for us to get this day today," he said.
The annual celebration was sponsored by the city of Kendleton, founded by freed slaves after the Civil War, and the Fort Bend Black Heritage Society.
"We want to celebrate 156 years of emancipation and being free in these united states," Sha'terra Johnson, vice president of the Heritage Society, explained to the gathering. Juneteenth was started shortly after the Civil War by freed slaves and abolitionists who wanted to honor June 19, 1865, the day Union Gen. Gordon Granger arrived in Galveston with news that the Civil War was over slaves were free.
"This is important what we are doing here today," said Rev. Curtis Johnson, who gave the opening prayer. "There was certainly a time when we couldn't celebrate an event like this. So we are blessed to be able to be here."
He read Psalms 37: 1-6 Fret not thyself because of evildoers, neither be thou envious against the workers of iniquity. For they shall soon be cut down like the grass, and wither as the green herb. Trust in the Lord, and do good; so shalt thou dwell in the land, and verily thou shalt be fed. Delight thyself also in the Lord: and he shall give thee the desires of thine heart. Commit thy way unto the Lord; trust also in him; and he shall bring it to pass. And he shall bring forth thy righteousness as the light, and thy judgment as the noonday.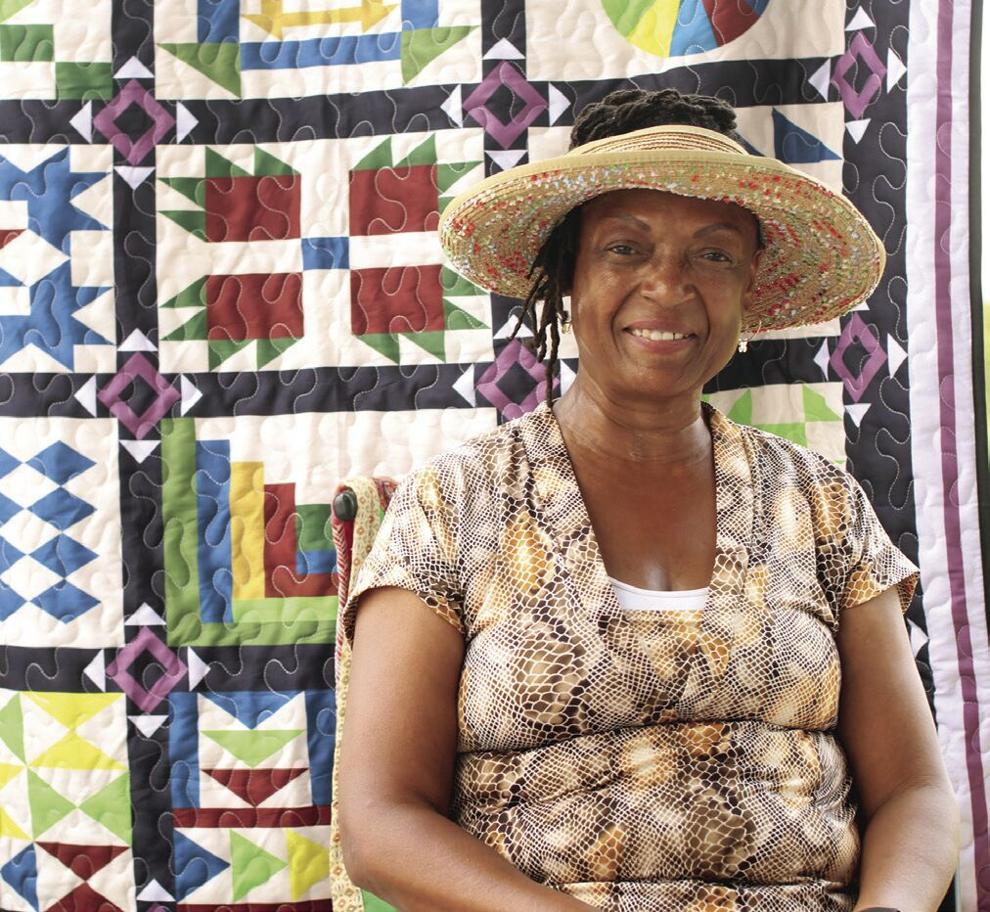 Kendleton's rich heritage
Former Mayor Carolyn Sanders, also a descendant of former slaves, shared Kendleton's rich history with the gathering. She discussed how the community was founded immediately after the Civil War, and how freed black slaves took advantage of low-cost land sales to build a community and schools for their children.
She reminded those in attendance of the Jaybirds of Fort Bend County, a political organization of Democrats set on keeping Blacks from holding public office or voting. A Black man from Kendleton named Willie Melton and a woman named Arizona Flemming, filed suit against the Jaybirds after they were prevented from voting in an election in the 1950s.
The Supreme Court sided with Melton, Fleming and the NAACP, and Blacks have been able to vote in Fort Bend County ever since.
"We have to remember, young people, that some of our forefathers sacrificed and died for us to have a right to vote," she added. "Y'all need to know the struggle continues. The fight continues. We still have racism and now we're fighting for our right to vote again."
History of Juneteenth
Barbara Jones discussed the history of Juneteenth.
"Juneteenth is the oldest celebration of one of America's most hideous, inhumane, dirtiest of the dirty, crimes against Black people— slavery," she said. "A crime, that's what it was, a major crime."
The June 19, 1865, announcement came more than two and a half years after the Emancipation Proclamation was issued — and was purposely delayed, she noted.
"Technically, by the Union's perspective, the 250,000 Texas slaves were already free, but you know how those (White) Texans were: 'I had paid $2,000 for old Joe and I've got this crop to get in and ain't nobody going to take my slaves."
On April 22, 1862, Lincoln announced the preliminary Emancipation Proclamation, not the official proclamation, Jones explained to the gathering. She said the preliminary Emancipation Proclamation declared that as of Jan. 1, 1863, only the slaves in the Confederate states were freed — not the five states separating the Union and the Confederacy, an additional 300,000 slaves.
She encouraged those in attendance to read the second paragraph of the proclamation, the one in which the five border states were mentioned.
'All about the Union'
Although she believes Lincoln was one of the greatest presidents ever, she said he wasn't fully committed to abolishing slavery. "When President Lincoln went into the American Civil War, it wasn't about slaves," she said. "In fact, he said it wasn't about slavery. It was all about preserving the Union. As God would have it, the Civil War became all about slavery."
She recited a letter Lincoln wrote during the Civil War: "My paramount objective in this struggle is to save the Union. It is not to save nor destroy slavery. If I could save the Union without freeing any slave, I would. All I want to do is save the Union — and if I could save the Union by freeing all the slaves, I'd do that, too. And If I could save the Union by freeing some slaves and leaving others enslaved, I would do that, too."
General Order No. 3
Texas was so far away from Washington and Lincoln that Texas slaves had never heard of the Emancipation Proclamation, and their slave owners certainly weren't about to tell them, she said.
"We know Gen. Granger went to Galveston on June 19, 1865, one month after the Civil War ended, because they told him, 'those folks in Texas, they holding onto their slaves. They're not giving a hoot about the Emancipation Proclamation and I need you to go down there and tell them what for.' "
Jones said some slaves dropped their hoes and mops the second they heard the good news. She said some slaves listening to Granger immediately departed to tell other slaves the good news. However, she said, authorities didn't want freed slaves going anywhere they pleased so they told them to stay put and work for their former masters for wages.
That's why it's important for today's Blacks to do proper research, she said. Most Blacks only pay attention to the first paragraph of the order, the one which says slaves are free. They need to read the second paragraph, which says former slaves need to stay put, she said.
And there's good reason for whites to want freed slaves to stay on the plantation: there were 250,000 slaves in Texas and 4,127 in Fort Bend County — twice as many slaves as whites — at the end of the Civil War.
Why the delay?
Why did it take so long for news of the Emancipation Proclamation and the end of slavery to reach Texas? One reason, Jones said, is that the Civil War was still raging when Lincoln announced the Emancipation Proclamation in April 22, 1862. She suspects another reason is the federal government purposely delayed the announcement to allow plantations to get another harvest in.
Celebrate, where?
Even after learning they had been freed, former slaves and their descendants had no place to congregate to celebrate Granger's historic arrival in Galveston. Naturally, those former slaves still living and working on plantations — this time for wages — couldn't invite other Blacks over, she said. "We couldn't go to (whites') parks or use their facilities and the whites were so mad at us they were not going to let us party. They didn't want any part of us," Jones said. Finally, Black folks simply purchased their own land where they could hold their own celebrations.
'A holiday for everyone'
Jones reminded the gathering that Juneteenth is called "National Independence Day."
"This is not just for us, it is for everybody," she said, noting that white folks who didn't celebrate Juneteenth before probably still won't celebrate it but they certainly will take advantage of the day off of work.
Hidden in plain sight
Researcher Toni Hill-Kennedy of Missouri City displayed quilts at the annual festival. She said the quilt panels are similar to symbols used by abolitionists to help escaped slaves find their way to freedom up north. She said the abolitionists would place the symbols in windows and on doors to notify escaped slaves that the homes were part of the Underground Railroad.