AD Eversole remembers his first day at the historic Richmond Barbershop.
"I went from getting 75 cents a haircut in Damon to $1.25 here," he recalled. "I went home and told my wife I had struck a gold mine."
On Nov. 18, AD celebrated six decades behind the chair.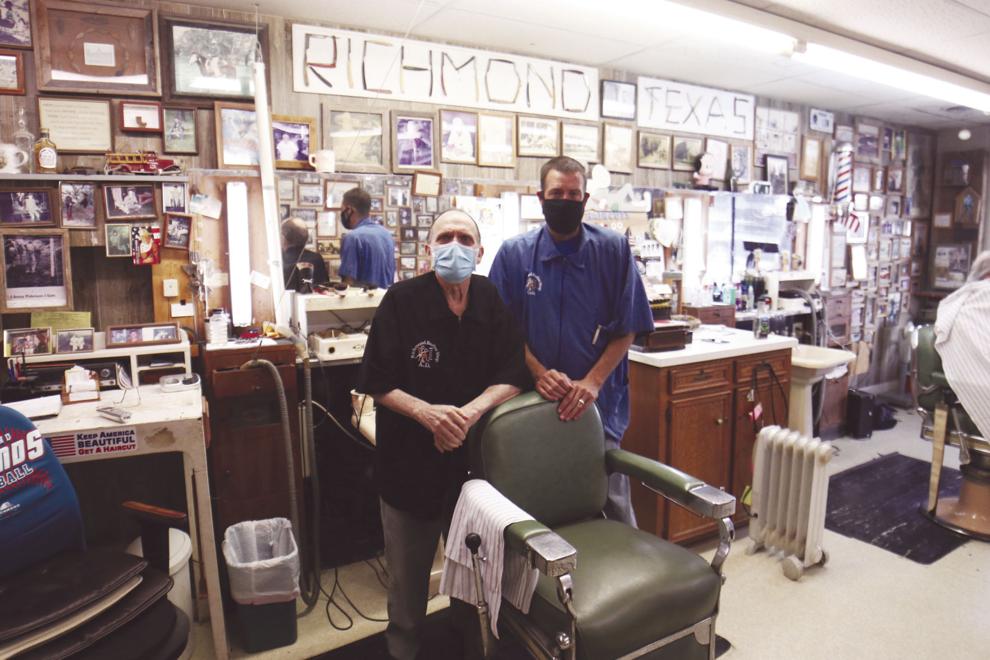 "It's been a wonderful 60 years here," he said. "If I had to start all over again I'd make the same decision. It's been a great career and a great place to work."
When he first walked in the door in 1960 at the young age of 20, AD worked the middle chair. Another barber worked on each side of him.
"I put in a lot of 16 hour days," he recalled. "I was cutting hair from sun up to sun down — a new customer every 30- 45 minutes."
He figures he has cut and combed tens of thousands of heads of hair over the past six decades. "I can't even put a number to it," he said. "It's been too many to count."
Those 16-hour days are long gone. Now 80, AD works a few hours each morning and relieves his grandson Colt for an hour each afternoon for lunch.
Gone also are the days when men stopped by for a hot towel and straight razor shave or to have their shoes and boots shined atop a shoeshine stand.
Colt still shines shoes, but the shoe shine stand was taken out years ago. Somethings haven't changed, though. Parents still bring their youngsters to the barbershop for their first haircut.
"Once, we had so many family members trying to take photos and videos that I had to elbow my way through them to cut the little boy's hair," AD recounted.
"I love cutting kids' hair, especially their first haircut because it's so special. If I put a photo on the wall of every first haircut I wouldn't have enough room on my walls."
AD says he has cut the hair of four or five generations of many families over the past six decades — Great-grandfather, grandfather, son, grandson and now great-grandson.
"Some of them came here as young boys and now I'm cutting their great-grandson's hair," he said.
Another thing that hasn't changed: The barbershop is still the place to come for local news, opinions on everything from the weather to politics to sports, and to catch up on gossip.
Longtime Richmond Mayor Hilmar Moore made the barbershop a weekly visit.
"This was Hilmar and (Richmond City Commissioner) Glen Gilmore's barbershop, I guarantee you. This was the official second city hall. Lots of politics were discussed here."
Both Hilmar and Glen, now both deceased, wanted to get their money's worth when they visited the barbershop, AD said.
"They insisted on the whole works — a shampoo and scalp massage to go along with their haircut," he said.
So many people would visit the barbershop to meet and talk with the mayor that AD often had to invite Hilmar back the following day just to talk to him.
"I said, 'Do you mind coming back tomorrow? I didn't get the chance to talk to you.' And he showed up the next day and we talked and talked."
Photos of Hilmar — once known as the longest serving mayor in the U.S. — hangs on one wall.
AD has had other famous visitors as well, such as country western star James Drury and former Houston Oilers head coach Bum Phillips, who stopped by regularly for a cut.
Photos of Bum, Drury and other celebrities adorn the walls of the barbershop.
Once, long after Bum retired from the NFL, he invited his favorite barber to visit him at his ranch in Goliad.
"It was a great honor," AD recalled. "Bum loved the barbershop and sent a lot of business our way."
Business has slowed way down due to the coronavirus pandemic. Customers only trickle in these days.
"We're surviving, but just barely," AD says as Colt sits in a chair along the wall and reads his cell phone.
"It'll pick up again once this pandemic is over."
AD says many men are allowing their hair to grow long again because of the pandemic.
"Some of them show up with hair over their ears," he said. "I guess they're just worried about getting their hair cut right now."
AD figures he still has several more years of cutting hair ahead of him.
"I'm not ready to retire just yet," he said. "The barbershop has been very good to me. I've really enjoyed it. Where else can you work where your friends pay you money?"
Besides, he says, "I'd miss my customers."