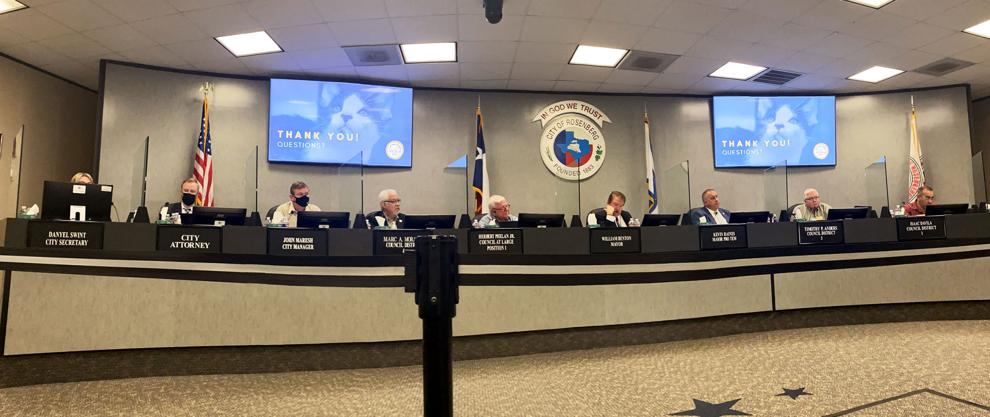 Tuesday was a big day for the city of Rosenberg.
And it was even more monumental for Marc Morales.
That's because it was Morales' first time sitting on the dais in the council chambers since he was elected to represent the city in November.
This week, Rosenberg opened its doors to City Hall for its first in-person council meeting since March of 2020.
Upon entering the chambers, audience members' temperatures were taken, and Rosenberg Police Officers placed a green bracelet around visitors' wrists signaling they were OK to attend the meeting.
In order to adhere to COVID guidelines, many of the seats in the chamber were taped off. Two people were allowed to sit on opposite ends of every other row, while one person was granted access to a seat in the middle of the remaining rows.
"It has been a full year since we have been in here, I believe," Mayor Bill Benton said at the start of Tuesday's meeting.
"As y'all know, you're not required to wear (masks). They are encouraged. But I see everybody's doing it anyway. I, for one, cannot speak and wear this mask. I have a hard time speaking without it, much less with it.
"But I have had one of my vaccines, and look forward to the other. In the meantime, we will continue to take precautions here."
While none of the councilors donned face masks during the meeting, they were separated by Plexiglas partitions.
The partitions were one of many purchases made on behalf of the Coronavirus Aid, Relief, and Economic Security, or CARES Act, funds. Other expenses included automatic doors at City Hall, automatic temperature readers at entrances, and sanitation services.
The mayor also welcomed the new councilors sitting on either side of him.
"Before we get started, I want to welcome our newest member, Mr. Herb Phelan," Benton said. "Congratulations on your appointment.
"Also want to welcome, again, Councilor Morales. This is your first time to sit in that chair.
"And of course, Councilor Euton is a returning champion. It's good to have you here as well."
Phelan replaced former council member Jacob Balderas at the At-Large Position 1 seat last week.
Before the meeting began, Phelan noted that he was sitting in the same seat as when he served on council from 1989 to 1992.
Euton also served on council from 2015 to 2017.